PMR Bluetooth VoIP Phone for Skype and Mobile Phones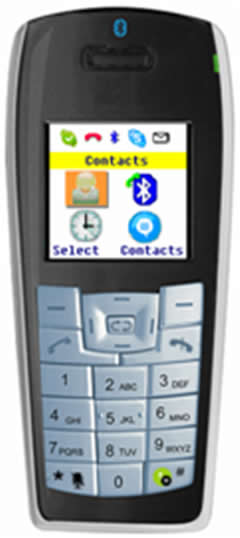 PMR Bluetooth VoIP Phone
The PMR Bluetooth VoIP phone is a leading-edge, wireless handset for use with both Skype and a mobile phone. You can use this VoIP phone to view your Skype contacts and call them easily. Also you can dial SkypeOut numbers directly from the keypad. At the same time, this handset won't let you miss any mobile phone calls once you have paired and connected it with your Bluetooth mobile phone.

The VoIP phone has two modes: Skype and Mobile; this feature allows you to dial a phone number via SkypeOut in Skype mode or via mobile phone in Mobile mode enabling you to use Skype and a mobile phone wirelessly and simultaneously.

The NSKP3C2XX is Bluetooth v1.2 compliant and fully functional supports both the latest Bluetooth Headset and Handsfree profiles to Version 1.2.
Brand: PMR
Part Number: NSKP3C2XX
Current Ver: Version 1
Release Date: April 2007
Bluetooth Ver: Version 1.2
Features:
Synchronize with Skype contacts' status with PC on line
View and call Skype contacts directly from Bluetooth VoIP phone
View latest Instant Message from Skype on Bluetooth VoIP phone
Supports SkypeOut feature and can dial a number directly from keypad. (SkypeOut has to be activated)
Supports Skype speed-dial function
Call transferring between PC and Bluetooth VoIP
Hold /un-hold current Skype call
Mute / un-mute current Skype call
Volume control
Extended handset, connected with a Bluetooth mobile phone, can dial a number directly from keypad.
Compatible with popular Bluetooth Stacks including Widcomm, IVT and TOSHIBA
User friendly PC application
1.5 inch CSTN color display with 128x128 resolution in 64K colors
Low power consumption
Supports power save mode
Charging cradle available
Bluetooth Features:
Works with Bluetooth enabled mobile phones
Headset & Handsfree Profile
2.4GHz Radio Transceiver and baseband
Full Bluetooth V1.2 Class 2 operation
30m – 50m distance operation with bundled class 1 dongle
System Requirements :
Operating System
Windows 2000 or XP
Hardware Requirements
400 MHz processor, 128 MB RAM, 15 MB free disk space and internet connection.
One compatible Bluetooth dongle.
Software Requirements
Skype client application and Bluetooth Stack (one of Widcomm, IVT or Toshiba) already installed.
Documents and Support :
Declaration of Conformity. Available soon, email to request a copy
BQB, CE, FCC Skype pre_qualified and prelisted